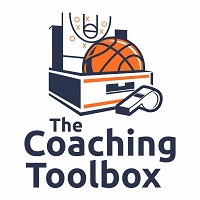 These are some of the notes presented by Tyler Coston at this past spring's PGC/Glazier Basketball coaching Clinic in Chicago.
Practice What Wins
There is no excuse not to examine every aspect of your practice and why you do what you do.
Transition and change is the thing that happens most in games.  Not just transition from offense to defense and defense to offense, but from ball side to helpside, during an offensive possession, a player is a cutter, a screener, a rebounder.  Basketball is a game where the players current responsibilitites are changing.
Most games are won in transition.
That is why Tyler believes in ending everything in practice with a transition
Pick 3 things that you want your team to be great at to develop a clear and narrow focus.
For Tyler's teams his three things are toughness, shot selection, and hard to score on
The three things are not the same for every team.  Each team's system of play is unique. Pat Riley did closeouts every practice.  The Seattle Storm does not help or rotate on defense, they stunt.
Technique on closeouts–lean in the direction of the drive you want to take away, hands up and form a diamond with index fingers and thumbs.  Take away 2 of 3 things (drive left, drive right, shot) and battle to take away the 3rd.  He works on angles of closeouts and technique at least 2 or 3 minutes each practice.
The three games within the game, offense, defense, rebounding
He believes that everyone has the same chance for every rebound
One season, he had a team that needed to become a better rebounding team.
He instituted a rule in every practice and every skills training session.  If the ball hit the ground on a missed shot, they ran.  Someone had to rebound it before it hit the ground.
He did a survey and found that 72% of the rebounds in his team's games were 2nd touch rebounds.  He used that to instill not giving up on the rebounds.  Even if the percentage isn't that high in your team's games, why wouldn't you use that to motivate players to be tenacious rebounders?
Tyler assigns rebounding roles to his players:
Chaser–They don't block out, they just go after the ball.  These are players who are guarding the players on the other team who get back to defend transition when the shot is taken and don't look to offensive rebound
Eraser–They block out, but hold their blockout and don't pursue the basketball
Spacer–They use the chuck and go (get the ball) rebounding technique
They wedge under the basket rather than blocking out right at the basket
It is not only what you do in practice, but more importantly, how you do it.
Their motto is that they are going to do everything with more energy and higher standards
Coaches must constantly be asking themselves, what can I do to create a competitive advantage for my team?
Here is an example from Carlton University in Canada
They play "Lock Left" defense
They force the opponent to enter the ball to the left on every possession
The player guarding the dribbler forces the ball to be dribbled to the left side
They guard in an open pack line stance to force left dribbles
All defenders to the right of the ball deny one pass away so that they don't allow the ball to be revesred.
They full front on ball side post ups
That idea might not work for your team, here are some ideas that you might use to find your way to give your team a competitive advantage:
What do most of the teams in your league do?  Can you do the opposite of that?
Can you do intentional cross matching with who your players guard to give you a window of oppourtunity for an advantage in transition as your opponent scramble to find their matchup?
Can you find ways to win the foul game?  Stan Van Gundy practices getting fouled on drives, ball screens, rebounding, and by taking charges.
Can you double team bad post players and create turnovers?
Basketball is often beautiful chaos, good looking layups nver won a game, practice layups the way your players will shoot them in games.
Most of the game is played in chaos, so find ways to practice that so your players are ready
Most players make between 20 and 30 "mistakes" per game including turnovers, missed shots, errors in judgement, etc… (Maybe you can come up with a description other than mistake)  Elite athletes take 7 to 10 seconds to return to their concentration and flow after each mistake.  Your athletes probably take longer.  If you can get them to recover much quicker than your opponents recover from theirs, that gives you a competitive advantage.