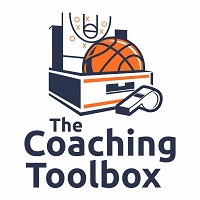 Hudl chatted with a member of Duke's coaching staff to go behind the scenes on how Mike Krzyzewski's game preparation process.
Mike Krzyzewski's name is synonymous with basketball greatness. His list of accomplishments could fill a novel, and he's the winningest coach in college basketball history. The guy knows a thing or two about coaching.
Imagine for a moment what it would be like to shadow Krzyzewski for a few days, to be able to see him at work and learn his processes. How would your workflow change if you spent some time with one of college basketball's top minds?
Meet Kevin Cullen, the guy whose job is to do exactly that. Duke's director of information technology and a valued member of Krzyzewki's USA Basketball staff since 2008, Cullen recently visited Hudl and allowed us to pick his brain on the Blue Devils' in-season schedule and how they utilize video. Come take a peek behind the curtain of one of the giants of college basketball.
"I think that video is really important for our coaching staff because it lets you see who you are or who your opponent is honestly and truthfully," Cullen said. "If you're looking at yourself, it's not a biased view of what you think you might have seen during the game or something that actually happened that you didn't notice. If you're looking at your opponent, it's going to be a true measure of who they are. If we look at film, we have the clearest film of what we need to be better at and how best to beat our opponents."
After the Game
Krzyzewski wants to get his staff on the same page before anyone's heads hit the pillow, so Duke's preparation for the next game starts almost immediately after the previous one ends. Whether in a conference room or on the plane home, the coaches grab some pizza or chicken wings and immediately begin molding their game plan.
As coaches watch that night's game, Cullen cuts out the plays they want to show to the team, usually between five and 20 clips. These will be shown the next day at practice.
Each assistant coach is assigned certain opponents to scout, and he and Cullen will watch five or six games before delivering a scouting report to the rest of the staff after the game. This message breaks down the upcoming opponent's personnel, tendencies, offensive sets, defensive strategy and what other teams have run against that opponent.
The coaches are typically up until 4 or 5 a.m., but the late nights prove how highly Krzyzewski values video in his workflow.
"It's a tremendous opportunity for a video coordinator because you get to sit and listen to a tremendous coaching staff who not only is teaching you about the game as you're sitting there watching film with them, but they're also helping you stay up at night," Cullen said. "The video coordinator in almost any situation is going to be up until 2 o'clock in the morning anyway, and it's an incredible feeling for me to have the coaching staff with me as I'm doing my work."
Day After a Game
Krzyzewski, Cullen, Duke's three assistants and director of basketball operations reconvene around 10 a.m. for a few hours to review the previous game once more and continue watching video of the upcoming opponent. They begin putting together the video that will be shown to the players at practice that afternoon, normally around 2 p.m. The coaches start to build the game plan and figure out how they're going to tailor practice around it.
The team begins practice with a video session, which can last between five minutes and 45 minutes based on what the coaches want to convey. Most of this is self-scout video, showing instances of effective and poor execution.
"One of the things we try to do is if we're showing two films, one of ourselves and one of our opponent, we'll try to change locations in between," Cullen said. "We'll try to get them to get up and walk around. They're mentally dividing two things, so we try to make that physical also so they have a chance to clear their mind."
The team then hits the court to go over what they've just seen. A TV monitor is often present so the coaches can show the players a play, then immediately practice that set in live action.
"Kids today are visual learners," Cullen said. "They're used to watching things on TV, so anything you can do to show them something on TV is really going to help them."
The entire practice is filmed by student managers so the coaches can review it afterward.
The players are encouraged to spend some one-on-one time with coaches when they have a break between classes. These sessions specifically focus on the player's role on every possession. Krzyzewski doesn't prefer to single out athletes during team sessions, so these side breakouts provide for more in-depth instruction. The coaches prefer that most of the video a player consumes is viewed with a coach present.
"I think it makes sure the players are receiving the right message when they're watching the film," Cullen said. "You can get everybody on the same page quicker if you're doing things together. Certainly there are some things we give players on their iPads or on their phones that they'll watch themselves, but for the most part we want them gathering the conclusions that our coaches have gathered and not the conclusions they would gather on their own."
Day Before a Game
The process is pretty similar but it's much more focused on the upcoming opponent than the previous game. This is when the staff gives the players the detailed game plan, going through the full scouting report and complete highlight tape. The coaches also distribute a paper scouting report that the players have to look at and show video that matches up with that paper in a meeting.
The coaches are careful not to overwhelm the players however, as the final tape is usually between eight and 10 minutes. All in all, Cullen estimates each player watches four to five hours of video each week.
Video is a key player in both the review and preparation process for Duke. It's become an integral part of how Krzyzewski operates, and effectively distributing the information video provides to the players has helped Duke net three Elite Eight appearances since 2010.
"I think that showing film to players provides much greater clarity when you're trying to bring home a point about how we need to play or about the way a player should behave on the court," Cullen said. "You can tell them about something that's happening or you can tell them that they're playing well or poorly, but when you actually show them the video, they can't look away from it and say, 'You're not right.' The tape never lies, as they say. The video is really important for that."
Duke found a way to effectively use video in its rise to being one of the nation's top programs. Experience the power of video through Hudl basketball.