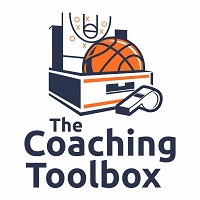 By Mike Dunlap (former Charlotte Bobcats Head Coach and current Loyola Marymount Head Coach)
The development and decision making process of the pick and roll game covers a lot of ground.
I will give you a couple ideas and leave it there.
One of the most important points that I can make is teaching to the advantage of the drill.
For example. play 3 offense versus 2 defenders. You can guard the ball and the screen, while putting a coach on the replace or fill man.
The coach is there to instruct only while giving the ballhandler different verbal cues as he takes his second dribble off the screener, like pass to replace man using the verbal "3" ….or making a bounce pass to the roll man using the verbal "5" or calling out "1" which means the ballhandler attacks rim or shoots a pull up jumper.
Diagram of the 3 scenarios just described
The set would be: ballhandler in middle alley, screener on either elbow, and replace man in the corner opposite side ballhandler dribbles for throwback pass. The idea here is to give all 3 offensive players verbal cues and use different types of situations so they must read and react.
Offensive basketball is nothing more than move and countermove. We teach different situations or types of pick and roll defenses and show the offense how to attack that particular scheme. For instance, if the defense is using a traditional hard hedge against the hallhandler, we tell him use at least 2/3 dribbles to get separation from screener so that passing windows are much bigger.
Additionally, we tell the point guard that there is an order to our progressions: "you attack rim first, look for roll man second, and find replace man third." We also know that people remember things in threes so we tell the ballhandler to be aware of the 3 S's: start point, set up (fake opposite the screen) and the separation rule of at least 2 dribbles before passing the ball.
The biggest problem I continually see with the p/r game is that the ballhandler leaves before the screener gets to his defender…WAIT…fake away….and once the ballhandler hears both feet of the screener hit the ground, he takes off…..The next most prevalent mistake lies with the screener because he does not sprint into his pick….sprint. sit, separate….there it is again, the 3 Ss…