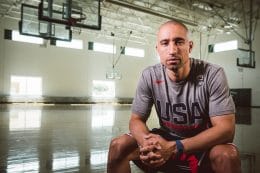 During a one-on-one interview with Hudl, Texas coach Shaka Smart opens up on coaching philosophy, video study, scouting and more. Here's an inside look at one of the top minds in the sport.
The interview is set to begin at 10:20, and that's precisely when Shaka Smart enters the gym. He briskly walks across the court, cordially and succinctly makes introductions and handshakes, then seats himself for the interview.
Although the morning's practice has yet to begin, Smart's laser-like focus is evident within seconds. The coach understands both the enormous opportunity and the burden that comes with it, and he's zoned in on helping this new team succeed.
The head coach at Texas and leader of the USA Basketball U18 squad, Smart's attention is on getting his team ready for the upcoming FIBA Americas U18 Championship in Chile. Gifted a roster of some of the best teenagers the nation has to offer, Smart, along with respected assistants Mark Turgeon of Maryland and Kevin Ollie of Connecticut, has a bevy of weapons at his disposal.
But the opportunity didn't come without pressure. The Americans entered the tournament, which took place in Chile in mid-July, with a 15-game winning streak in the event and the crowns from the last three championships. Success was an expectation, not a hope.
As the interview begins and the subject turns to coaching, Smart maintains the same passion he'll display during practice half an hour later. This is not a man who does things halfway. Smart is engaged and, like everything in his life, he dives in completely, using each second to provide valuable insights into how one of the fastest-rising coaches in the nation tackles his craft.
Comprised of some of the nation's premier players in the 2016-17 classes, the U18 team is coming off a scrimmage with the University of Houston the night before, an effort Turgeon was quite pleased with. But you'd never know it from the tempo of this morning's practice, which is supposed to be a simple walkthrough. Smart's intensity seldom dips during the hour-long period, nearly half of which is devoted to full-speed work.
Everything is a competition, from full-court action to simple shooting drills. Smart never flashes anger or rage – he's not known as a yeller – but he's constantly challenging his players with a mixture of encouragement and demands.
"Being able to find meaning in what you're doing is very, very important," Smart said. "In college coaching, and this goes for players as well, we choose to be there. That's a conscious choice. If we wake up and choose not to be there then we could. But at the same time if we choose to be there, we're also chosen. Coaches are hired. Players are recruited. The combination of those two things, that you're making a choice and that someone chose you to be there, it's a really special thing, and if it's significant to you, you're going to have a level of motivation to work extremely hard and to make your team better. It's about remembering the people you're around and trying to help them get better every day. That's what motivates me every day and makes this so much fun."
Smart brings that same passion to his video study, something he considers vital to his success. Due to the speed of the game, it can be tough to pick up on everything happening on the court in real time.
"The saying is that the tape don't lie, so it's great to take the things that happen on the floor and slow them down," Smart said. "Be able to pause, rewind and play a segment back over and over again and just learn, first of all as a coach, what some of the things are that we need to do better as a team, and then to be able to take individuals and groups of players and say, 'Here's an area where you're doing really well. Keep doing that,' and 'Here's another area that maybe we need to do a little bit differently.'"
Smart finds a lot of value in breaking down opponents' video, in particular how they handle full-court pressure, a staple of Smart's coaching philosophy.
"We like to press, so we put a lot of time into, what's a team's press attack?" Smart said. "Who do they have taking the ball out of bounds? Where are they going to throw it in? What's their alignment? All those sorts of things, and video is huge for that."
But often he likes to take in what his own team is doing, even if he's just watching video of practice. Nothing escapes Smart's eyes – anything less than max effort during a drill, slumped shoulders after a few missed shots, poor execution coming out of a timeout – it's all part of his self-scouting process.
"What's our body language look like after plays and how closely are we connected after huddles?" Smart said. "Those things are huge. Those are the building blocks of your program before you even get into X's and O's.
"One of the things that happens in scouting is, if you get so caught up in the other team and what they're doing, and as a coaching staff trying to memorize every single action and every single movement they make, you lose sight on, what are the things we need to do to be most successful?"
***
The interview lasts 22 minutes, but not once does Smart's focus waver. He's clearly amped to attack the upcoming practice, but he remains engaged as he discusses some of the aspects that have helped him win 73 percent of his career games, take VCU to the Final Four in 2011 and land the Texas gig with just six years of head coaching experience.
Just like Smart's planned-to-the-minute practice schedule, which is followed meticulously, his daily agenda is carefully constructed. Efficiency is of the essence, and any tool that can help Smart unearth critical insights while saving time is highly valued.
This is why video has become such an important part of Smart's coaching repertoire. He credits his stint at Dayton (2001-03) with unlocking the benefits of video. Smart gained a much better understanding of which opposing coaches were trying to do and developed a knack for noticing player tendencies.
"You learn so much from seeing what other coaches do, what other teams do, what some of the great players do instinctually," he said.
Nothing escapes Smart's watchful eyes. If an opposing post player excels on one block and struggles on the other, he'll bend his defense and try to force him to that spot. If he notices a player's accuracy dips when he takes a step inside the 3-point line, he'll encourage that shooter to watch the position of his feet and stay farther out.
"We'll break down every single shot in practice a guy has. If our guys want to, they can see every single shot they have. We grade those shots by what we call shot quality, and we also have a shot chart that we give them that shows them where the different spots on the floor are. Then they can actually click on that spot and watch every shot they took from say, the left corner.
***
As the interview concludes, Smart rises, shakes hands and briskly exits to a neighboring gym where the rest of the squad is gathering for team photos.
Smart isn't strictly business – the guy knows how to have fun. A former point guard at Kenyon College, Smart is far shorter than several of his players. He closes the gap a bit by standing on his tip toes for the photo.
Once practice begins, however, it's back to business. Each play is expected to be executed to perfection – any slip-ups lead to a stoppage, followed by Smart calmly correcting the miscue. Turgeon and Ollie also take control for segments of practice, seamlessly passing the leadership baton as if the group practiced it the night before.
Smart's passion clearly resonates with the players, who weeks later go on to win all five of their games by an average of 30.4 points, crowned by a 99-84 victory over Canada in the title game on July 23. That was the only game the Americans didn't win by at least 20 points.
"The discipline to work, that's what it really comes down to," Smart said. "You have to be in the gym. There's really no shortcut when it comes down to that, but there has to be a level of discipline to what you're working on.
"You have to have a level of discipline and a work ethic to understand, 'Here's what's going into what's making me better,' you've got to attack those things, whether you're the No. 1 player in the country or someone who is fighting to get playing time on your high school team."
Smart makes it clear that video is a key piece to his coaching process. If you want to find out what video can do for you, check out Hudl basketball.