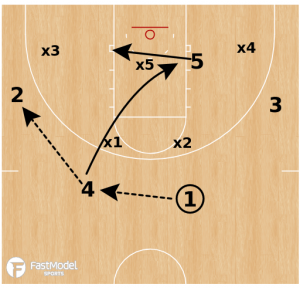 This 2-3 Zone Quick Hitter was contributed by Jordan Peterson to the FastModel Sports Basketball Plays and Drills Library.
Jordan is the Founder and Director of Positionless Basketball, is the Head Basketball Coach at Ellsworth High School. (Wisconsin)
You can also find out more about FastModel Play Diagramming software by clicking this link: FastDraw
These are Jordan's comments on the play:
Bellarmine University ran this BLOB in the 2017 D2 Midewest Regional Final against Findlay.
This play has multiple scoring options and can be ran against a man defense or zone defense.
Bellarmine ran it against a 2-3 zone defense.
My belief is that anything you see someone else run should only be implemented if the movement fits your players.
I also believe that you don't have to run the entire play. You might be able to take parts of it and put them in to improve what you already do.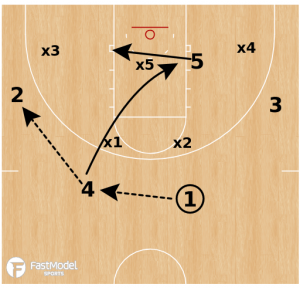 1 passes to 4 who immediately passes to 2 on the wing.
5 slides to the ball side block.
After 4 passes he flashes middle looking for the ball and if he does not get it he goes to the block.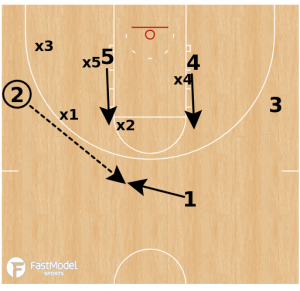 2 passes back to the top of the key.
5 and 4 flash to the elbow areas.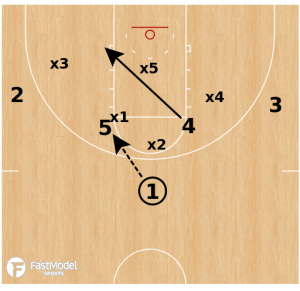 1 passes to 5.
4 cuts to the opposite block looking for the ball.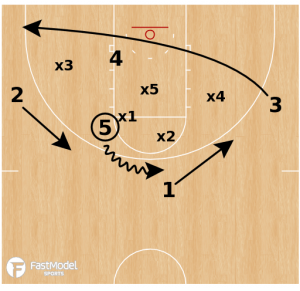 5 dribbles at 1 who spaces and 3 cuts to the rim trying to get behind the zone.
2 is pulled with the dribble for an option as a throw back.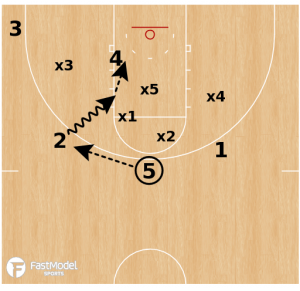 Bellarmine passed back to 2 who drove and got a dump off.