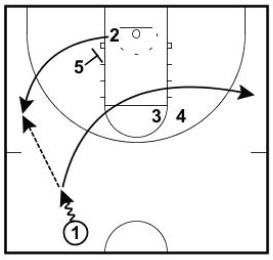 These 2 ideas for attacking a defense that downs your side ball screens is from the Arizona Basketball Coaching Newsletter.
It is a monthly newsletter.
If you are interested in being added to their mailing list, email me your:
1) Name
2) email address
3) School or Team
4) Coaching Position
and I will pass it on to the Arizona staff.
Attacking a Down Ball Screen
5 screens for 2 who cuts to the free throw line extended.
1 passes to 2 then cuts to the opposite side wing.
3 and 4 fill the deep elbows.
1 fills the wide wing
The basketball is reversed from the left wing to the right wing to #1.
3 spaces to side after making the pass.
5 cuts to set a ball screen for 1.
X1 takes away the drive off the ball screen.
X5 takes away the straight drive to the basket, forcing the ball down.
Option 1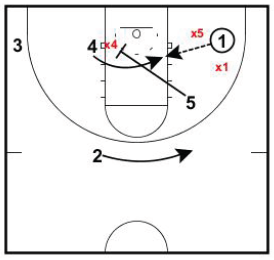 5 releases and sets a screen on X4.
O4 cuts to the ballside block for a possible post feed.
Option 2
5 releases from on ball screen and screens X2
O2 cuts behind the ball for a 3 point shot.