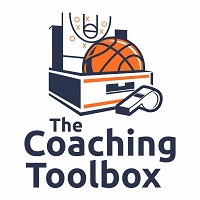 These notes from the 2013 TPG Master in Coaching Clinic were posted by Zak Boisvert on his basketball Coaching Website: Pick and Pop
Bob Hurley
St. Anthony HS (Jersey City, NJ)
"Over 40 years of sustained success—the St. Anthony way"
-St. Anthony players receive a contract on the first day of school. They must bring it home to sign.
• Lists 20 expectations of them
• Covers everything they to do to be a successful student-athlete
• Parents must sign as well
-St. Anthony curfew extends to social media (no Twitter/Instagram/Snapchat posts past a certain time).
-This is a scary time because our gyms are filled with a generation of kids who don't like to work on their games.
-Hard to keep this up, but tries to schedule practices with the court open an hour in advance. Appoints a coach to be there an hour early working with any kid that shows up on offensive skill work.
-What you're responsible for at St. Anthony (as a player) every single day:
1. Be enthusiastic
2. Correct mistakes
-The purpose of practice:
1. To get better
2. To prepare for the next opponent
-Everything in practice is game-speed and everything is competitive.
-Our day-before practice is the same speed, it's just not as long.
-If I don't like a kid's effort, I give him a warning. If I see it again I point to the door.
-The things you struggle with will show their face against the best teams on your schedule.
-We constantly remind our players about the things we feel they need to work on.
-St. Anthony starts practice with 7 players in maroon every day. If you end the day in maroon, you start the next practice in maroon.
-Hurley's view: St. Anthony plays every game to build for the post-season.
-During St. Anthony's 83-game winning streak, Hurley didn't talk about winning a single time. The focus every day was on getting better.
-Use your assistants—the power of delegation.
-Save your best stuff for Post-season.
-Simple objectives
• Play hard
• Play smart ("or we try to")
• Be unselfish
• Don't give opposing team points
• Be in good shape
-Hurley's teams play straight man-to-man defense for the first ten games of the year.
He wants to establish the way they play without the help of gimmicks.
-After the first 10 games, Hurley will use zone press off free throws (make or miss).
-St. Anthony will zone the opponent's first 2 BLOBs of the game and then play man-to-man.
-After game 10, Hurley will look to mix in his Box-and-1, Triangle-and-2, different zones as he sees fit.
-First three steps of conversion: make up for a lack of speed by transitioning quickly mentally.
-What "being really solid" means to Hurley:
1. Sprint back every possession
2. Block out on every shot
3. Organized press O
-St. Anthony WIN stat: a culmination of deflections, charges, defensive rebounds, shot contests, loose balls, block-outs, throw aheads (and more).
• Game leader is excused from all conditioning during practice(s) until the next game
-Passing is the most important skill in the St. Anthony program.
-Attack the x5 for 32 (or 40) minutes. Put him in a ball screen the first play of the game.
-As a coach, Hurley puts the onus on himself to find 10 points per game on special situations.
• Hurley tells his team this
• Team has do their part as well, but knowing the playbook inside-out, paying attention to details, having great huddles, and executing every part of their duty on a given play.
-Tries to shoot the last shot of all four quarters (important though to shoot with enough time on the clock to get an offensive rebound).
-After the season, Hurley lets the year breathe for one week before scheduling meetings with every player in the program (and his entire staff) to discuss what theplayers can do to improve.
-It sounds bad, but it's probably in the kid's best interest to be the 1st or 2nd option on his AAU team. He needs opportunities to develop—those opportunities may not come during the high school season where the success of the program is paramount.
-Your JV team should mirror your varsity. As the varsity head, you need to pay close attention to your freshmen and JV teams.
-Hurley loves Rex Ryan's "Play Like a Jet." Develop an identity for your program and a way your players should play/act and hold them accountable to your vision.  Editor's Note from Brian.  I do realize that Rex Ryan is no longer coaching any team.   The purpose of this site is not to judge coaches or to criticize that saying Rex Ryan and Jets is outdated.  The purpose of the site is to provide as many good ideas as I can for coaches to pick and choose from.  I think the idea of "Play like a (fill in your school's mascot)" or something similar, is worth considering for adoption for your program.
-Hurley knows how frustrating it can be to work with the big kid whose skill level is woefully far behind the rest of his teammates. He urged coaches to stay positive with that kid and keep working with him.
• "Treat that kid great until he loves the game. As soon as he does: treat him like everyone else."