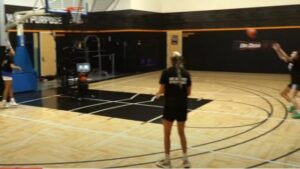 A short video from Dr. Dish Basketball.
The coach presenting in this video is Special Jennings, Head Girls Basketball Coach at Montverde Academy in in Montverde, Florida.
The drill being demonstrated is called "One More" as it emphasizes making an extra pass. Making an extra pass should always lead to a better shot or end up with the ball in the hands of a better shooter. It should never be just to make an extra pass.
Take the movements in the video and create your own drill that simulates the actions that your offensive schemes produces in games.
Click the play arrow to view this YouTube video.