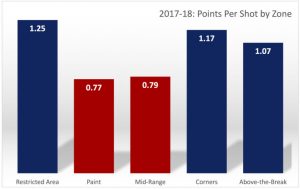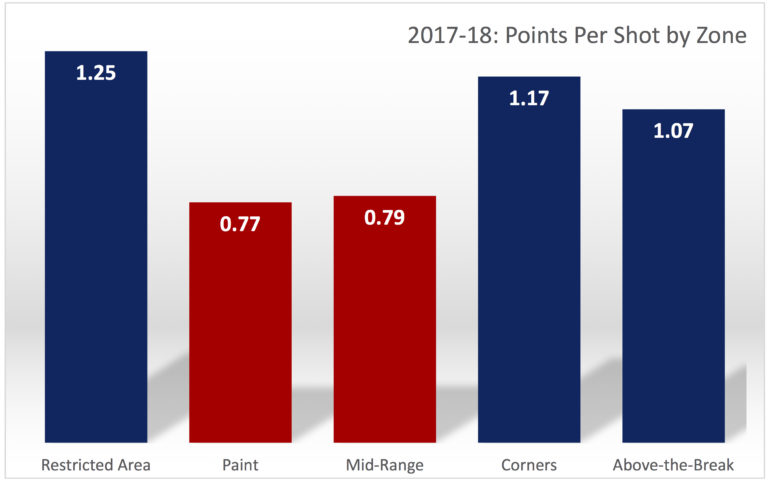 By Stephen Shea, Ph.D. (@SteveShea33) and published on his blog:  Basketball Analytics.  You can find out more about Dr. Shea and his work in the field of Basketball Analytics below the article.
Editor's Note from Brian The purpose of this post is to offer some ideas about applying these analytics to what you currently do and improve how you evaluate your offensive execution.  You probably won't be able to apply all of this, but hopefully you can use parts of it to help your players understand and measure how you want your team to play on offense.  I have included screenshots of part of the tables as a way to add context to the points that Dr. Shea makes.
If you want to view the entire article including sortable data tables for all NBA teams, you can click here: What if Your Team had Houston's Shot Selection I realize that the shorter distances for different 3 point shots does not apply to high school and college, but I also believe that there are specific spots on the arc that your players shoot better from, or at least favor as spots for 3 point attempts.
And, of course, we have to coach to our player's strengths, but if we develop and play players whose strength is mid range, then we will be limited in the effectiveness of our offense, just as we would be limiting our offense if our primary ball handler could only dribble towards their strong hand.
I also realize that free throw shooting is even more efficient than field goal shooting, and that you are going to get to the line more frequently by attacking the basket. That has to be factored in. Free throw scoring efficiency is tied to the ability of the free throw shooter. A 70% free throw shooter will score, on average, 1.40 points per 2 shot free throw possession, which is better tan any of these. To me, that still points out that paint shots outside the restricted area and mid range shots are the worst ways to attempt to score.
As always, my goal is to provide food for you and your staff to use to work to improve your program. I do believe that analytics have a place in the decision making processes for basketball coaches, but that it is not the only tool to use.
End of Editor's Note
What if your team had Houston's shot selection?
Stephen Shea, Ph.D.
There are 5 major shooting zones on an NBA court: the restricted area (at the hoop), the paint (but not in the restricted area), mid-range, corners, and above the break. Among the zones, the paint and mid-range shots are, by far, the least efficient.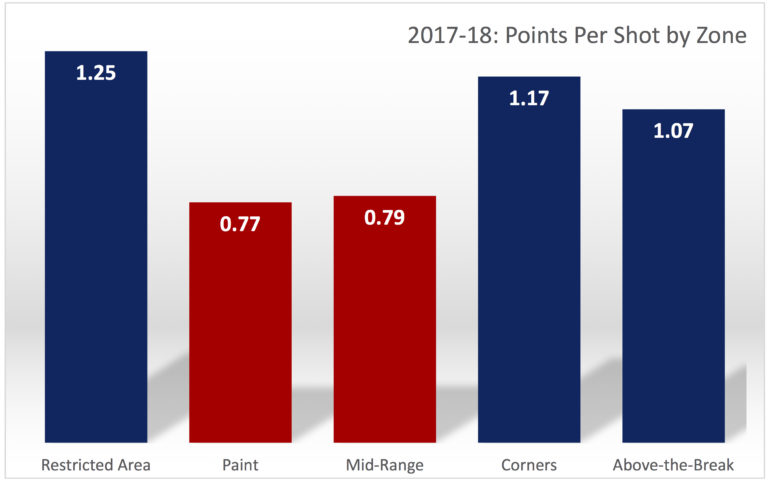 One team has leveraged this information to design a strategy that attempts to greatly reduce paint and mid-range shots. This season, just 7.6% of Houston's field goal attempts have come from the paint and just 5.8% have come from mid-range. Both percentages are league lows.
Houston's shot selection is far from the norm. While mid-range attempts are on the decline, many teams are still taking 20% or more of their shots from this inefficient region. What if they didn't?
As a thought exercise, let's suppose every team had Houston's shot selection. We'll keep each team's field goal percentages from each zone the same. For example, Sacramento has shot 36.6% from mid-range this season and taken 28.1% of their shots from that region. We'll assume Sacramento maintains their 36.6% but that they only take 7.6% of their FGA from mid-range (Houston's percentage).
We'll measure the team's shooting efficiency by points per shot (PPS). The table below contains each team's current PPS, their hypothetical PPS with Houston's shot selection (labeled NewPPS), the difference between the hypothetical and actual PPS, and the additional points per game the team would score with Houston's shot selection.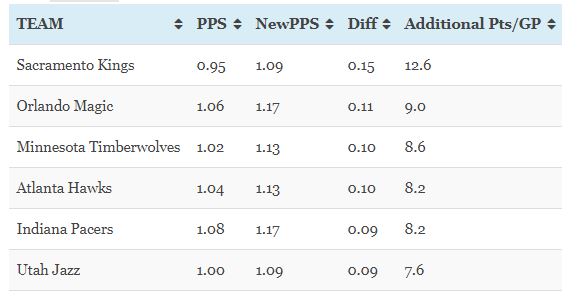 Shot selection can impact shooting efficiency, and so, it wouldn't be fair to suggest that a team could radically alter their shot selection tomorrow and maintain their shooting efficiencies from each zone. Still, when we see that a team like Sacramento would produce 12.6 more points per game with their current field goal percentages and Houston's shot selection, we have to ask, why aren't they trying?