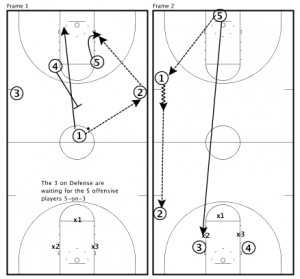 I found this drill on FastModel Sports Basketball Plays and Drills Library.
They have several pages with drills and plays posted by high school and college coaches.
The site has thousands of drills and plays that have been submitted by basketball coaches from around the world.
You can also find out more about FastModel Play Diagramming software by clicking this link: FastDraw
This is a way to get some variety in your drills as you work on 5/0 offense and on your transition game.
This 5-3-2-1 Push-Push Drill from Gary Colson can be used to practice running your fast break after a made basket.
Run offense against no defense.
When offense scores 5 takes it and passes it to 1 going down the sideline.
Run your secondary break into a 5 on 3 situation.
5-on-3 until they score or the defense gets the ball on a steal or rebound.
They will attack 3 on 2 which will be our 1 and 2 who transitioned back on defense.
3-on-2 and whoever shoots first is back on defense vs 1 and 2.
We finish the (5-3-2-1) with 2-on-1.
The next 5 set up at the other end to start 5-on-0 and continue the drill