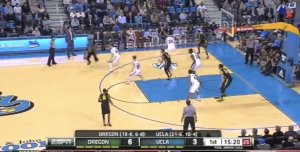 Army Assistant Men's Basketball Coach Zak Boisvert has put together some short clips of one of Oregon's Dana Altman's Zone Attack.
There are several other man and zone sets on this video.
The point is not a "highlight" tape, but the movements to get shots. Several of the teams miss the shots in the video of the set they are running.
Coach said this about the video:
"Very simple, but allows your talented perimeter players opportunities to make plays within the gaps of the zone. If you can occupy the 4 defenders with the 3-man rotation, you have a 2-on-1 along the baseline for your post players."
Coach Boisvert has posted several videos of some of the better schemes he has seen. His YouTube channel is: Zak Boisvert You Tube Channel
He also is also very active on Twitter: @ZakBoisvert
He has an outstanding resource site for coaches. You can access it here: PickandPop.net
The videos are hosted on YouTube, so please make sure that the network you are on provides YouTube Access.

He has diagrammed the plays and provided a download link
Click the play arrow to begin the video