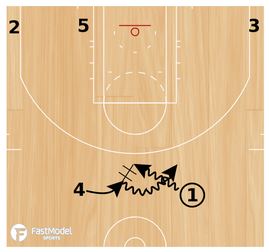 This play was run by the Chicago Bulls in Fred Hoiberg's first regular season game as Head Coach. It is one of the featured posts in the FastModel Sports Basketball Plays and Drills Library.
You can also find out more about FastModel Play Diagramming software by clicking this link: FastDraw
Note: The numbers are to distinguish between the 5 different players on the floor, not to say that you have to put a traditional "5" player (i.e. center or post player), or a traditional "4" player (i.e. power forward) in those spots if you run the play. If you need a 3 point shot, at the end the game, IMO it is better to put 5 players who are dressed for the game that give you the best chance of accomplishing that.
Note #2: The purpose of this post is not to say that you should run this exact play. But, I hope it does motivate some discussion and thinking among your coaching staff as to how you can possibly incorporate some of the actions in this play to your team's end of game situations, or as to what you can do to counter teams that switch everything at the end of the game in this situation.
The play was submitted by Jon Giesbrecht. Jon is currently an assistant coach with the University of Winnipeg Men's program. Jon is also an assistant coach with the 17U Male Provincial team for Team Manitoba (Includes National Championship 2013-14).
1 dribble hands off with 4.
Boomerang Step-Up… Immediately on the pass from 4, 1 receives step-up screen from 5.
Blind Pig… If 1 is denied, 5 flashes to the pinch area, 1 cuts hard back door.
Pin-down DHO… If 5 cannot pass to 1 on blind pig action, 5 goes into DHO with 3 (4 setting pin-down).