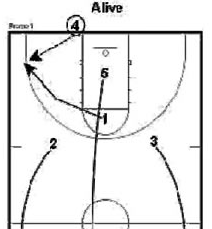 This press attack is from the Arizona Men's Basketball Newsletter
If you are interested in being added to the mailing list for the newsletter, let me know and I will pass it on to their staff. They request to get your name, your school, and your coaching position.
Scroll below for a diagram of this press attack.
One concept that I have always used against presses is to have 3 receivers within 15-20 feet of the ball and spaced so that they are 15 feet from each other as well.
I like to have one behind the ball, one in the middle and one up the side.
I like to have the 5th player back at the basket to force the defense to use a player to cover what we call our "finisher."
4 gets to the ball quickly to beat the press.
He looks deep first, then to 1.
4 should clear the backboard by going to his right
The initial receiver -1- has 3 options: 4 crackback, 2 sideline, 3 middle.
If 2 or 3 catch the pass, we attack to score.
If 1 uses 4, 4 gains ground with dribble.
3 vacates and 2 fills the middle.
5 always circles opposite the ball.
On a catch by 3 or 2, we attack to score.
5 goes to the "finisher" position – behind the backboard.