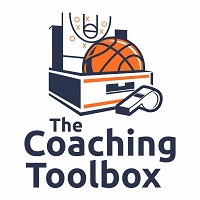 A couple of Sideline Out of Bounds Plays from the San Antonio Spurs and Gregg Popovich.
The plays are in the San Antonio Spurs Playbook which is a part of our annual Season Starting eBook special.
Diagrams created with FastDraw
Triple
1 passes to 4 then moves inbounds to get the ball back from 4.
1 then dribbles off a ball-screen from 5 as 4 cuts to the basket off a staggered screen from 2 and 3.
1 looks to pass inside to 4.
If 4 gets the ball but doesn't have a shot, 5 screens for 2 as 1 clears to the corner.
4 looks to make a move or pass to 2 for a shot.
Triangle
4 screens for 5 who screens across for 3.
3 cuts up and 2 rubs through to the corner.
1 looks to pass to 2. If 2 isn't open, 3 is the outlet.
If 2 gets the ball, 3 makes cut off a back-screen from 5.
2 looks to make the lob pass to 3.
If 3 isn't open, 4 screens for 5 who curls the basket for a lay-up.