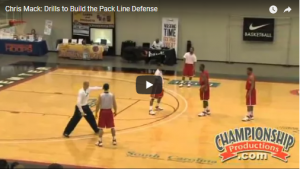 The video below features current Louisville and former Xavier Men's Coach Chris Mack teaching one of the key drills to their packline style man to man defense.
Make sure your sound is on as you watch.
The video is a YouTube video.
Please make sure that you are on a server that grants access to YouTube.
Click the play arrow on the video icon to start the drill.
There is nothing to purchase to see the drill, however, if you are interested in purchasing this DVD, you can use this link:
Chris Mack: Drills to Build the Pack Line Defense
Make sure your sound is on as there is narration with the video.