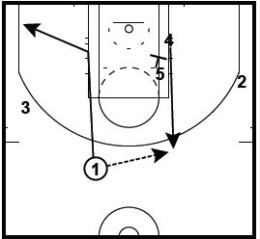 This play is from the August Arizona Basketball Coaching Newsletter. It was diagrammed by Coach Marc Skelton from a play run by Maccabi Tel Aviv.
This action uses 2 dribble hand offs to get the defense moving before setting the middle ball screen.
If you are interested in being added to their mailing list, email me your:
1) Name
2) email address
3) School or Team
4) Coaching Position
and I will pass it on to the Arizona staff.
1 passes to 4 and then cuts to the hoop and fills the corner.
(option) pg and 4 can execute a give and go
4 runs a dribble hand off with 3
(option) 3 can fake dho and cut backdoor
3 runs the second dribble hand off with 2.
5 moves up to screen as soon as 2 has the ball
2 attacks the hoop with 5 rolling
Coaching point- when 2 comes off screen, try to hostage dribble the defender and draw 5's defender