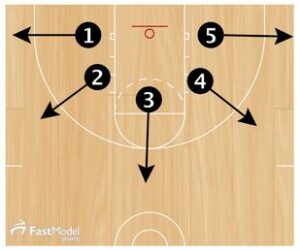 These basketball drills were designed with FastModel. You can find out more about the software and also see several other plays and drills that were contributed by coaches from various levels, locations, and backgrounds at FastModel Drills and Plays Library
Here are 3 shooting and scoring drills that I hope will fit into what you are allowed to do with your players during this spring improvement season. I posted a competitive workout system last week as an idea to use with your players to add some variety to what you do with your skill development.
If you did not see the article last week, here is the link: Competitive Basketball Workout
5-Spot Range Shooting
In the competitive workout system, this is in the technique drill category.
6 shots at each spot. Make 60% of 30 shots in order to move spots back. Continue moving spots back to determine range.
"On the Clock Attacks"
These next two drills were contributed by Tim Springer he Girls Varsity Basketball Coach at Castle Hills First Baptist School in San Antonio, Texas
Players drive to rim and hit change of direction at 3 point line then finish with layup or jump shot.
Group must make 10 at each cone within 4 minutes.
Repeat drill 3 times with different moves at 3 point arc.
You can adjust time required, number of reps, and specific moves to fit skill level and needs of your players.
Player gives misdirection to defense and sprints to either chair.
Grabs ball from chair and pivots into triple move and attacks defender.
Play 1 on 1 with limit of 2 or 3 dribbles.
Player remains on offense until the defense gets a stop without fouling.
Adjust rules to your program.
Champions Shooting
As a high school coach at Park Tudor in Indianapolis, Ed Schilling used this drill both during the season and during summer workouts. Ed is currently an assistant for Steve Alford at UCLA.
Put 15 minutes on the clock.
You can adjust the distance and type of shots (catch and shoot, shot fake 1 dribble, floaters) to suit your needs.
2 basketballs per 3 player group.
3 is rebounder, 2 is passer, 1 is shooter for 1 minute.
Each minute sound horn and players rotate from shooter to rebounder, rebounder to passer, passer to shooter.
Can compete for makes as a group, or as an individual, compete against your personal bests.
Drill works best for long term development if player calls out score for manager or coach to record after each round. Keep record and post progress of each player.