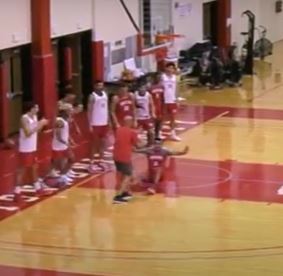 This video is with Coach Joe Jones of Boston University.
The defender guards 3 different players in the 3 stages of the drill to rep several defensive skills in a short period of time.
You can certainly change the drill to fit your needs and or change it so that several baskets are going at once to get all players involved in a shorter amount of time.
You will need to be on a network that allows you to access You Tube to view the video.
Click the play arrow to view the video.
There is narration with the video, so please make sure that your sound is on.
You can find out more about the Championship Productions video that this clip is from at this link: Defense Drills: Individual & Team Concepts.
The video with Coach is available in both DVD and online format.
Click the play arrow to start the video.