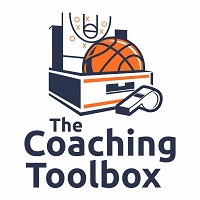 RESTRICTIONS FOR DEVELOPING YOUR OFFENSE
This article is from Bob Starkey.  Bob is the associate head coach for the LSU women's program.  You can check out his blog at http://hoopthoughts.blogspot.com
We really like the use of restrictions to both emphasize and correct in terms of our offensive play.  Your team is not getting the ball inside enough: "No perimeter shots until we have two low post touches."
Your team doesn't look to set re-screens after setting back screens: "We can only score off of a back screen with a re-screen."
Your team is not reversing the basketball: "Two ball reversals before a jump shot."
Again, what you do with your restrictions is limited only to your imagination. We usually apply a restriction daily to our offense for at least one drill and it is usually derived either from something that we didn't do well in our last practice or game, or it is something that we want to emphasize for our next opponent.
A great example of this is playing 3/3, 4/4, or 5/5 against a switching defense while using the restriction that you can only pass the ball to a screener. This is a great way to "adjust your player's vision" against this type of defense. How many times do you see a team come out and pass the ball in the waiting hands of a defender who switched a screen and didn't have to move?
We teach our team that against the switch, the screener has a better chance of being open than the cutter. Now it is easy to tell your team this – it is quite another to prepare them for it. If you are use to passing to cutters it is not necessarily all that natural to switch and pass to the screener. That's why this drill is so effective and important.
Not only do you put the emphasis of the passer to look for the screener but also you now have put pressure on the screener to make a good second cut toget open for a pass.
The Coaching Toolbox has hundreds of resources for basketball coaching including basketball practice, basketball plays, basketball drills, basketball quotes, basketball workouts, basketball poems, and more!