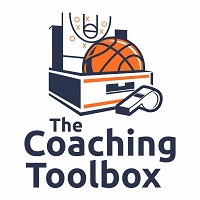 I found the idea for this from Coach Creighton Burns and have made a few suggestions for ways that you can adapt the drill to your team.
The purpose of the drill is to simuate the end of game situation where the team with the ball is playing ball control .  Our philosophy is that we are either going to shoot wide open layups, free throws (if our opponent wants to foul us in their attempt to catch up), or run time off the clock.  Our call for nothing but a layup is "4!" meaning that we are only going to shot shots that we consider to be a 4 on our shot rating system.
In the drill, teams alternate possession of the ball as in a game with the ball changing hands on a basket, a defensive rebound, or a turnover.  If the offense misses the layup and gets the offensive rebound, they maintain possession of  the ball.  First team to 60 points wins.  Scoring for the drill is as follows:
Made Lay-up = 5 points
Each pass = 1 point
Each foul = 1 point (for the offense and offense retains possession)
Turnover = 2 points for the defensive team
It encourages the offense to work to get open, and the defense to work on pressure and denials.
To start the drill, the player with the ball tries to beat the defender off the dribble.  After that player makes a pass, there is no dribble, or it is a turnover.  There is also no passing back to the same teammate who just passed you the ball, unless it is a give and go for a layup.
Depending on your philosophy of using timeouts to save possession, you can give each team a timeout or two to call during the drill to save possesion.  That teaches them to make sure that they are aware of and ask to find out how many timeouts they have remaining.  Our rule is that we don't call timeout to save a possession until the final two minutes of the game.
The Coaching Toolbox has hundreds of resources for basketball coaching including basketball practice, basketball plays, basketball drills, basketball quotes, basketball workouts, basketball poems, and more!