These two Golden State Warriors Side Out Plays are from Scott Peterman's eBook "101 Plays of the 2016 NBA Playoffs" assembled by John Zall.
You might also be able to tweak these plays and use them, or parts of them, as a part of your half court offense as well.
We are into the last week of our annual Holiday Hoops eBook Bundle sale–any 4 Coaching Toolbox or HoopScoop eBooks for $35.
(Click for more information about each)
If you want me to put any 4 eBooks together for you, email me at bwilliams@coachingtoolbox.net or call/text me at 765-366-9673
Diagrams created with FastDraw
Golden State Warriors 1 Loop Hammer
This play could also be adapted very easily into a half court set.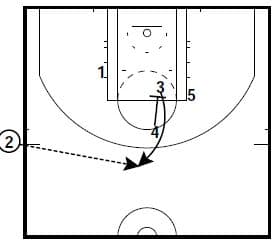 4 sets down screen for 3
2 inbounds ball to 3
4 and 5 set screen for 1 who loops over top to right wing.
3 passes to 1.
1 turns corner and dribbles towards baseline.
4 sets hammer screen for 2 to left corner.
4 then pops t o left wing for shot as well.
1 can pass t o 2 or 4 for shot.
Golden State Warriors Scissor Gate
I realize that 2 is starting with the ball inbounds, but this can easily be modified and run as a side out play.
4 sets down screen for 5
2 passes t o 5 after cutting t o the perimeter
2 and 1 scissor cut off of 5
3 pulls out o f corner and gets pass from 5
3 dribbles over to left wing
4 and 5 set elevator screen for 2
You can get any 2 of our eBooks for $25 at this link: Coaching Toolbox/HoopScoop eBook Bundles
If you have any questions or are interested in a book that isn't on the list, email me at bwilliams@coachingtoolbox.net or call/text me at 765-366-9673