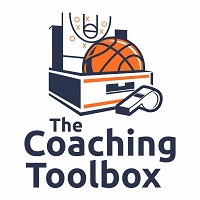 The Coaching Toolbox has hundreds of free resources for basketball coaching.
Since we at the Coaching Toolbox have only been posting since March 1, we still have many many areas that we want to delve into. One of those things we want to add to over the summer is our defensive pages.
As you might have guessed if you have spent any time going into our defensive postings on the site, we coached and prefer the pack line pressure defense. One of the basketball quotes that influenced our thinking was from Dick Bennett, when he stated "When you try to stop everything, you stop nothing." The second statement that greatly impacted our thinking was that "You can only do two of the three from the group of "denying, helping, and recovering."
Coach Bennett states that he can document statistically (and we can too from our statistical experiences) that when you work hard and aim to deny perimeter passes that the three point percentage that you allow increases. It is due to the fact that when a defender is denying and then moves to help on a dribbler or a post entry pass, the momentum is going away from the player he or she is guarding and it is next to impossible to stop that momentum and then redirect it back to their defensive assignment.
If you are "out athleticed" certainly playing a pack line pressure defense to shorten the game makes a great deal of sense. We believe that even if you are blessed with better athletes than your opponent, it still makes sense to play the pack line. Visit the Coaching Toolbox for more information that we have collected to implement a pack line pressure defense in your program. Our defensive beliefs might help you to begin thinking about what type of defense will make your program a success.