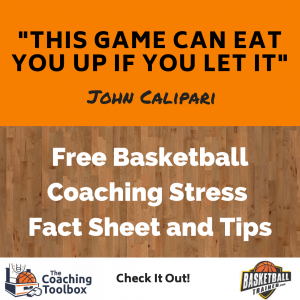 You can learn the most about your basketball team when it faces adversity. The ability to find ways to win games when your team can't buy a basket or is in foul trouble reveals a lot about the toughness of your players and of your team. It is also a great indicator of just how good your team is. Although every coach wants to know that his/her team can win those types of games, it comes with a serious stress-related price tag.
It is inevitable that your team will experience challenging times throughout the course of a season. It is during these stretches of time that stress can explode through the roof. Realizing that your team will grow the most during this adversity is the first step in dealing with the resulting stress brought on by the not-so-perfect level of performance. The next step is to address the voices of the administration, parents, and the media that may not be so warm and welcoming. If left unaddressed, these and other sources of coaching stress will generate a level of pressure and anxiety that will grow and fester. Once this occurs and becomes your mode of operation, a chronic state of stress creates your new normal.
What Do I  Need to Know About Stress in Coaching Basketball?
Most people are familiar with the feelings that accompany the immediate onset of a situation that produces a stress hormone release known as the "fight-or-flight" or the stress response: increase in heart rate and breathing and a reduction of digestive activity leading to a loss of appetite. Managing the production of these stress hormones, cortisol and adrenaline, is essential to keeping stress at the "healthy" level. Knowing what situations will set off this release is helpful in planning your stress-attack approach. For example, deep breathing exercises and meditation and prayer are relatively quick activities that can be performed in a moment's notice. Helping a person in need or getting a massage are great stress-relieving ideas if time allows.
If a chronic state of stress develops, the drop in your coaching performance will be the least of your worries. Stress will deliver a devastating blow to your health that can lead to early resignation/retirement, increases in healthcare expenses and absenteeism, relationship problems, and even death. If you identify your stressors and have a plan of action in place to manage them, you are more likely to come out on top with little to no consequences.
This article will act as a "cheat sheet" to provide you with a deeper understanding of stress, assist you in identifying what stresses you the most, and recommend stress reduction techniques to help lighten your anxiety.
What is Stress?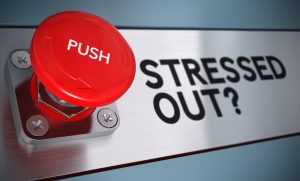 According to the Cleveland Clinic, "stress is the body's reaction to any change that requires an adjustment or response. The body reacts to these changes with physical, mental, and emotional responses." Stress can result from a negative source, distress, such as the loss of one of your players due to injury or a team losing streak or a positive one, eustress, winning the state basketball championship or witnessing your team reach its full potential. Although both stimulate a similar response, distress has a more harmful effect on your health. Stress can be real or perceived. It is specific and individualistic in nature which explains why one situation stresses one person out while the same situation doesn't for someone else; it's not what you see that upsets you, it's what you think you see.
Dr. Karl Albrecht describes the four most common types of stress that provide us with insight as to what may jumpstart the physiological and psychological reactions associated with stress. It is likely that you will experience one or more of these forms of stress at some point during all of your basketball seasons.
Time Stress. This stress occurs when the time is limited and you fear that you won't be able to get everything done in the amount of time that you have. Exercising time management skills is essential to eliminating stress when the time is scarce. This could be game prep when you have a quicker than normal turnaround between games, i.e. tournaments.
Anticipatory Stress. This stress typically addresses an upcoming event such as a huge game, speaking to the media, parents, etc. Because this stress is based on future happenings, the situation does not have to turn out the way you think it will. Learning to become more mindful can help keep you in the moment so that your thoughts do not drift into the future.
Situational Stress. This stress occurs when you encounter a situation that you do not have control over. This could be needing other teams to lose in order for your team to reach the playoffs. A deeper self-awareness of the physical and emotional signals that your body expresses under pressure helps alleviate this stress. A conflict is a common form of situational stress. Knowing the skills necessary to resolve conflict can prevent stress from reaching unhealthy levels.
Encounter Stress. This is when you worry about an upcoming meeting with a particular person or group of people or are overwhelmed by interacting with too many people. Meeting individually with parent's who have unrealistic expectations of their child's role on the team, getting drilled by the media after a tough loss, and being introduced as a head coach in front of a lot of alumni and supporters would be examples of encounter stress. Developing a better understanding of other people's wants and needs, applying good listening skills, and expressing empathy are the best ways to address this type of stress.
When you experience a stressful situation, you begin to secrete cortisol which moves you to action. High levels of cortisol over long periods of time stimulate the fear center in your brain. As cortisol rises, the area of the brain responsible for memory, learning, and stress control is triggered. When this enters a chronic state, brain cell reproduction decreases which can lead to depression and Alzheimer's disease.
A study performed on mice found that pups who were nurtured by their mother were more resistant to stress later in life than pups who were not nurtured by their mother. These results were passed down to future generations making them inheritable. This indicates which genes are expressed under varying circumstances, the epigenetic component to managing stress. The following (short) video illustrates how imposing stress can be on your health.
Universal Stress Truths for Basketball Coaches and Everyone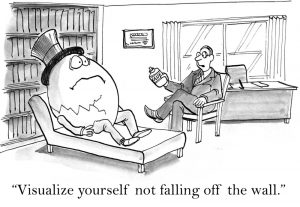 The six basic elements surrounding the stress we experience are well documented. An understanding of each one of these "universal" stress truths will go a long way in keeping the effects of your stress at arm's length.
Everyone experiences stress – At some point in time we will all face physical, mental and emotional reactions to stressful circumstances, it's a part of life. The "have to's" and disappointments of life are inevitable.
Not all stress is bad (for your health) – In small, non-chronic stressful situations, stress can help motivate you to accomplish a task (i.e. meet a due date) and avoid danger (i.e. run from a dangerous situation – "fight or flight"). It can also be the result of a wonderful event in your life (i.e. winning the district championship or your child's graduation from college). This level of stress can spice up your life and make it more fun and exciting.
Identify your (negative) stressors – Knowing what stresses you can help you avoid certain situations that have led to stress in the past. A mindful approach to your stressors will provide you the awareness needed to consciously monitor your level of stress.
Chronic stress can cause serious health problems – A physical, mental and emotional beatdown occur when stress goes untreated. How we respond to stressful situations will determine the extent that this effects our lives.
Identify stress reduction techniques and put them into practice – Regularly engaging in enjoyable, life-giving activities not only relieves stress, but generates an overall sense of wellbeing. A lifestyle that incorporates stress-reducing techniques on a daily basis will go a long way in preventing stress's harmful effects.
Seek professional help if your stress gets out of control – If you lack the motivation, time, or information to manage your chronic stress on your own or you have reached the point of illness, it may be time to seek the help of your healthcare provider. Your treatment should include counseling, stress management techniques, and medications if necessary.
Basketball Coaches Are Not Alone Dealing With Stress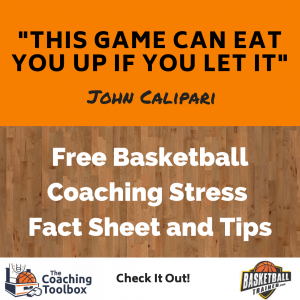 Stress has its tentacles deeply rooted in all work industries, relationships, and circumstances. It is safe to say that most situations that we encounter have the potential to create stress in our lives. Consider the following facts and stats regarding stress in our country.
According to a WebMD article, stress-related disorders account for seventy-five to 90% of all doctor visits. This seems obvious given stress's close association to many health conditions.
The same WebMD article states that 43% of all adults experience the harmful effects of stress.
According to a study by the American Psychological Association, 75% of employees believe that their job is a major stressor.
The American Psychological Association says that stress costs $300 billion annually to American businesses for reduced productivity levels, employee turnover and absenteeism, and increased medical and insurance fees. Much of this could be alleviated by maintaining a healthy balance between coaching and personal/leisure tim
According to the Bureau of Labor Statistics, employees who take a leave of absence due to stress related disorders will be out of work for 20 days. How would your team respond if you had to take three weeks off during the middle of the season because you were about to have a nervous breakdown?
44% of Americans feel more stress today than five years ago. Either life is more stressful today or stress management skills are lacking; it's probably some of both.
60% of illness and disease is the direct result of stress. This should come as no surprise given stress's ability to weaken the immune system and increase inflammation throughout the body.
4 out of 10 stressed people have unhealthy eating habits. The desire for instant relief from stress initiates the quick fix craving of comfort food.
Poor nutrition exacerbates stress. An unhealthy diet creates new stressors (weight gain, diet-related illnesses, etc.).
Your genes may have a say in how you handle stress. The expression of certain genes will dictate the way in which you deal with stress or how it deals with you.
Poor Choices In Response To Stress
Choosing negative health behaviors to counter your stress only compounds the problems that are directly related to your stress. It is a common coping mechanism because of the instant gratification it provides. Bad habits that form from dealing with stress the wrong way, accentuate the negative impact stress is imposing on you. It is not unusual for this to become a cycle that repeats itself over and over. Some common negative stress-relief choices that people make include:
Overeating
Eating Comfort Food
Drinking Alcohol in Excess
Smoking
Recreational Drugs
How Basketball Coaches Can Overcome Stress
With all of the negative talk about stress and its destructive effects, it can all be mitigated with a little desire and effort. The following stress management techniques have all been proven in their ability to reduce the effects of stress. However, they are just recommendations. If you engage in other activities that work for you, continue doing what you are doing. Use this list to generate ideas and create a more thorough plan of action.
Regular Exercise – When you exercise your body produces chemicals called endorphins. Endorphins reduce the perception of pain leading to more positive feelings. These sensations improve your mood and your outlook on life. Exercise counters many of the damaging effects of stress, such as it improves sleep, strengthens the heart, and increases self-esteem.
Prayer, Reading Scripture, Meditation – Prayer, reading scripture, and meditation create an internal rest with mental alertness that lowers heart rate, reduces inflammation, lowers the production of cortisol and adrenalin, and normalizes blood pressure. This level of mental focus also releases the neurotransmitters serotonin (eases tension), dopamine (creates pleasurable feelings), and endorphins (euphoric effect) that assist in reducing stress levels.
Connect with Friends – Research indicates that positive social interaction with others reduces the body's stress response. Healthy friendships lead to laughter, positive behaviors like exercise and proper diet and nutrition, and even living longer.
Practice Mindfulness – Setting aside the judgment as you observe and appreciate what is through the practice of mindfulness, produces an internal "relaxation" and reduction in the stress response. Learning to do this with different aspects of life helps develop an appreciation for even the most mundane events that life has to offer.
Listen to Relaxing Music – Music has a way of connecting us with our emotions and acting as an escape from life's troubles. Its emotional, physical, and mental influence on us can have a profound effect on our stress levels.
Perform Deep Breathing Exercises – Taking deep breaths lowers your heart rate, blood pressure, and respiration when elevated as a result of being stressed. This relaxing response produces a stress releasing effect that can be used anywhere.
Write in a Gratitude Journal – Regular journaling about those things for which you are most grateful helps you adapt to stressful situations and deal with adversity. This is accomplished by helping you focus on what is going well in your life. Maintaining a journal has been shown to lower your stress by improving your attitude and cognitive function and enhancing your immune system.
Take a Vacation – Vacations improve your job performance by strengthening your quality of life. Research indicates that a great vacation can extend its stress-reducing effects up to weeks after the vacation has ended. These and other bonuses of vacation have far-reaching health benefits.
Play Golf – Taking an afternoon off to play a round of golf reduces stress and anxiety, improves mood, builds relationships, and restores the mind from mental fatigue leading to a higher level of work performance. This low-intensity, low-impact sport allows for participation well into the latter part of life.
Spend Time on a Hobby – Engaging in a hobby generates a sense of fun and escape from the stress of coaching. This creates something to look forward as the hobby time approaches. Working on a hobby is also associated with a lower body mass index, cortisol levels, blood pressure, and depression.
The Bottom Line For Coaches
With all of the damaging effects of chronic stress waiting to consume the incautious victim, comes an alternative that involves having fun, relaxing, and enjoying family and friends. This combative approach to stress's effects mandates more leisure time, time away from the basketball court, and an opportunity to connect with people and things that truly matter the most in life. Respecting the stress you experience regularly and addressing it in a healthy way will add years to your life and life to your years.
Are you ready for change?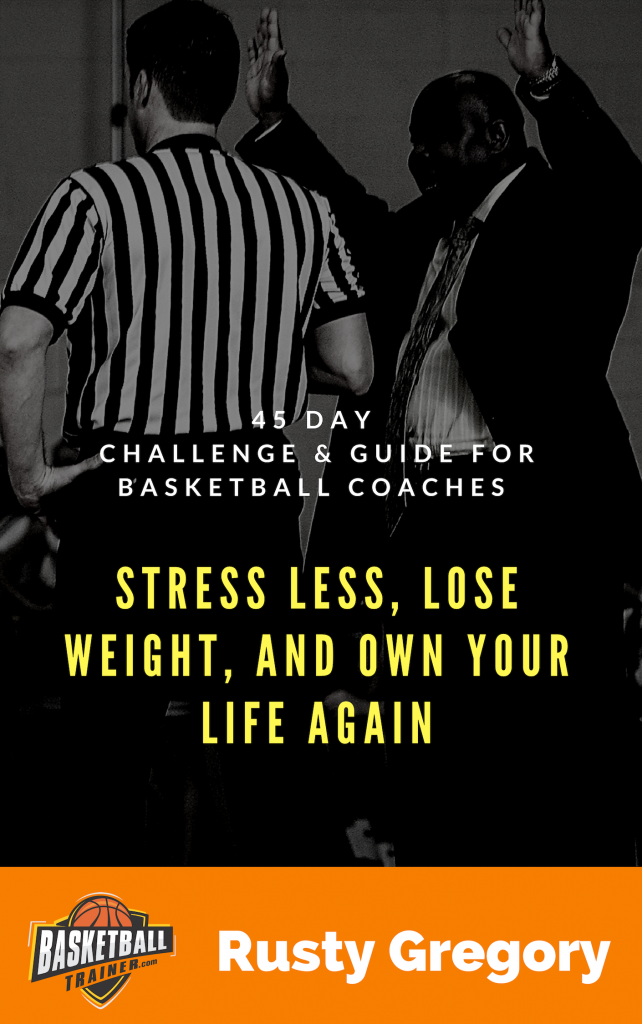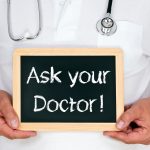 Disclaimer: The purpose of this article is to assist people in improving their overall health and basketball coaching performance by managing his or her stress brought on by coaching. This article is also meant to create an awareness of stress and its harmful effect on health and offer suggestions to better manage that stress. It is not intended to prescribe a diet, exercise plan, or stress management program. Consult with your nutritionist, licensed physician or healthcare professional before beginning any lifestyle or nutritional program for his or her professional advice and your involvement in it.
Rusty Gregory, MS, CSCS is the coauthor of Living Wheat-Free for Dummies (Wiley Publishing). He received his B.S. (Commercial and Industrial Fitness, Minor in Health Education) in 1989 from Texas Tech University and his M.S. (Kinesiology) in 1991 from the University of Michigan. In 1991, he began his Austin personal training business, and became a Certified Strength and Conditioning Specialist (CSCS) with the National Strength and Conditioning Association (NSCA). In 1995, he opened Forte Personal Fitness, a private personal fitness studio where he trains athletes from a multitude of sports and people of all ages, health backgrounds, and physical limitations.  Rusty is part of the BasketballTrainer.com team of experts led by Austin Basketball Trainer Chris Corbett. Rusty and the BasketballTrainer.com team will be releasing their course to help you manage and beat stress to increase your impact while enjoying life more fully in the coming weeks to help you prepare for your best 2019 ever.