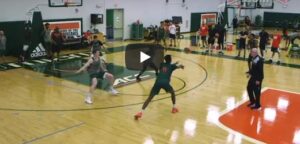 This video is with with Jim Larranaga, Quinnipiac University of Miami (FL) Head Men's Basketball Coach.
He calls it the UCLA Drill.
The purpose of the drill is to make a game-like three point shooting drill.
These are the rules that you can see in the video. You can change, add, adapt, anything you want to the drill to best help your players.
1. Game is played between two competing teams of 4 players each.
2. 4 on 3 on the court with one player from the defensive team off.
3. Offense cannot dribble.
4. All shots are 3 point shots.
5. One point is scored for a made three point basket by the offense.
6. One point is scored for a deflection by the defense.
7. First team to 3 points wins.
8. Once one team gets to 3 points, switch offense to defense and defense to offense.
You will need to be on a network that allows you to access You Tube to view the video.
Click the play arrow to view the video.
There is narration with the video, so please make sure that your sound is on.
You can find out more about the Championship Productions video that this clip is from at this link: Jim Larranaga's Shooting Drills to Improve Accuracy and Shot-Making Under Pressure – Basketball — Championship Productions, Inc..
The video with Coach is available in both DVD and online format.
Click the play arrow to start the video.