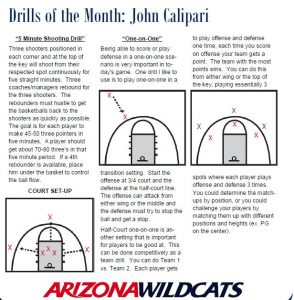 Scroll below to see the drills
These basketball shooting drills below were from the Arizona Men's Newsletter.
If you are interested in subscribing to their newsletter, email me and I can put you in touch with their staff.
I need your name, your school, and your coaching position to get you added to the Arizona list.
Here is another link to a short video of a shooting drill that Coach Calipari uses in his Dribble Drive Motion Offense. You do not have to purchase anything to see the sample drill.