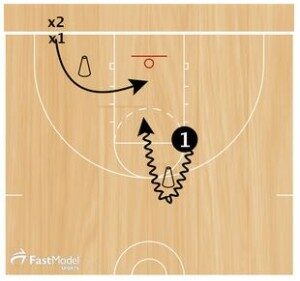 I found these 2 drills in the Fast Model basketball library.
They are drills that can be used in 2 or 3 player skill development workouts, or in a team practice setting.
If you like these drills, please consider sharing them on Twitter or Facebook through the share buttons on the left side of the page.
Also, click here for a link to all of the basketball drills on The Coaching Toolbox.
This drill was contributed by Taylor Jannsen.
He is the owner and founder of PMax Basketball Training centrally based out of Milwaukee.
The purpose of this drill is to teach players how to beat rotational help with a variety of finishes.
Beat the Helper
On the offensive player's first move, the defense loops around a cone and simulates a help defender.
Player 1 pushes the dribble out in front and must touch the paint before attempting a shot.
Make the drill competitive by scoring it as a one on one game. You can either play straight scoring or allow the offense to stay until the defense gets a stop.

6 Scoring Moves Drill
John Leonzo, student assistant for the men's basketball team at Cedarville University, contributed this drill
This drill allows for a lot of repetitions on moves for finishing around the basket, one on one moves, and jump shots.
This can also be used by small groups or individuals as a part of their improvement season workouts.
Passers are represented by dots. If there are no passers available, players can simulate a pass by spinning the ball to themselves.
Players sprint to the 3 point arc, and then execute the following series of moves:
1. Rip and go lay-up
2. Change of direction and lay-up
3. Rip and go jump-shot
4. Change of direction jump-shot
5. 1 dribble step-back jumper
6. 3 pointer
This series of moves is to be executed twice at each wing, once going to the open side and another time going to the middle.
To make it competitive, time one player through all 6 moves from one spot with a 2 second penalty for each missed shot.