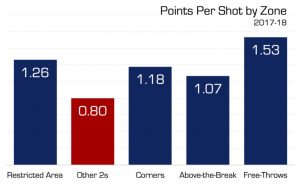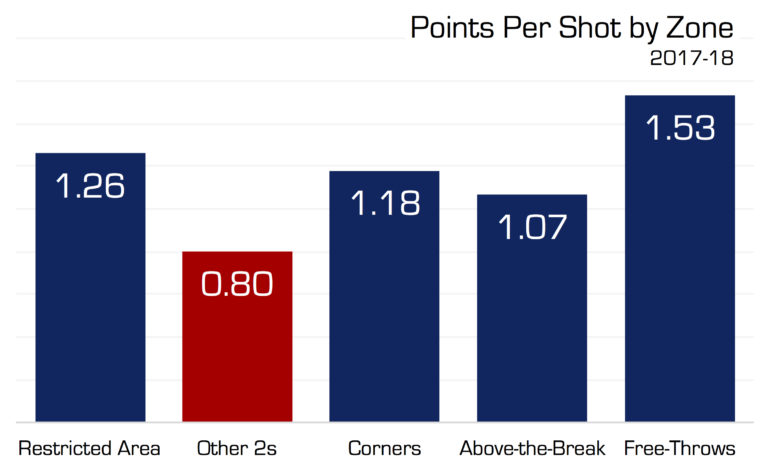 Originally titled "The 40/60/80 Club"
By Stephen Shea, Ph.D. (@SteveShea33)
Editor's note from Brian: Yes you have to play to your individual players' strengths, and some of your individual player's strengths might be long 2s. The data is presented to stimulate some thought as to what types of skills you want to work on to develop in your players, and how you want to structure your offensive and defensive philosophy and tactics.
These are NBA data and the NBA 3 point arc is constructed differently than college and high school. I still believe that there are applications of this information to those levels.
Analytics have had no more obvious influence on the game of basketball than on shot selection, and the influence extends beyond the suggestion to take more threes.
The best shots are from behind the arc, at the hoop and at the free-throw line.
(The points per shot for free throws is for a 2 shot free throw situation)
Even though high school does not have a "restricted area," you can still use the visual from college and professional games to get an idea where those shots are taken, even on a court without that marking.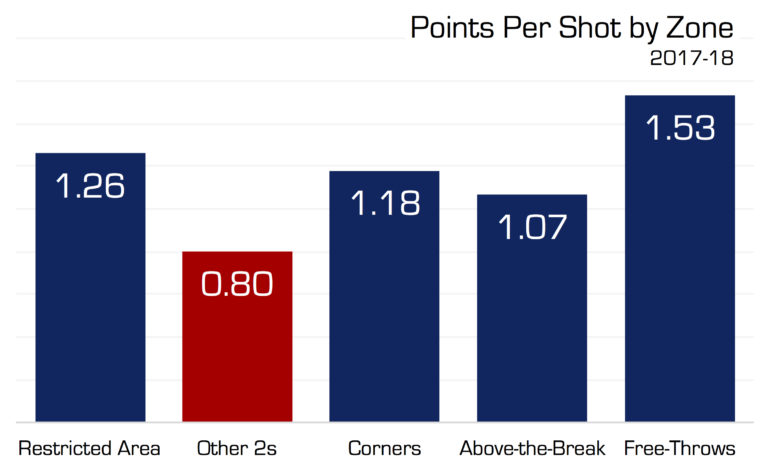 As a result, NBA teams are taking half as many mid-range jumpers as they did 20 years ago. And there's no sign of that trend slowing down.
If teams are strategizing to take more shots at the hoop, from three and from the free-throw line, then it's only natural that they should want the players that are the most efficient from those regions.
We introduce the 40/60/80 Club, an exclusive group of go-to NBA scorers that shoot better than 40% from three, 60% from the restricted area and 80% from the free-throw line.
Editor's note from Brian: Just an idea that you might be able to apply to your players. In my opinion, looking at overall field goal percentage (combining 2s and 3s as field goal attempts is not a very helpful statistic. Breaking shots into restricted area, other 2's, 3's and free throws give you a much better idea of where you are strong and where you need to improve–both from an offensive and defensive point of view.
Dr. Shea has co-authored two books on the subject of utilizing analytical data in basketball. You can find out more about both books by clicking on the links or images of the book covers below.
Basketball Analytics: Objective and Efficient Strategies for Understanding How Teams Win
Basketball Analytics: Spatial Tracking