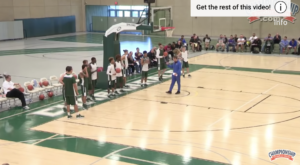 This full court shooting drill is from Florida's Mike White.
The video is hosted on YouTube.
You will need to be on a network that allows you to access that site.
Many programs do a similar drill.
I like the fact that the bigs shoot different shots besides layups.
In my opinion, any time you do conditioning, it is best to do it by passing, catching, shooting, and dribbling while you are running.
The goal for the drill is to score 130 points in 2 minutes.
You might need to set your standard a little lower depending on the level that you coach.
You can also adjust the scoring if you want players to shoot 3 point shots in the drill.
Or, you could set the standard lower to begin and then increase it as your team improves at this drill.
The video is from the Championship Productions YouTube Channel
If you are interested in learning more about the Championship Productions Basketball Coaching Video (available in both DVD and Instant Video Format) that this drill came from, you can click the following link: Mike White: Team Skill Development
Click the play arrow to view the video.
There is narration with the video, so please make sure that your sound is on.