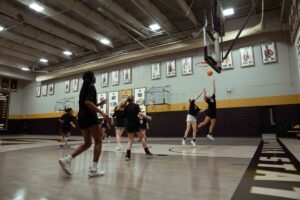 Emporia State University is located in the small town of Emporia, Kansas, and is the third oldest public university in the state. Through its rich history and high-quality sports teams, Emporia State has made a name for itself in the NCAA Division II space.
With an enrollment of around 5,000, smaller colleges like Emporia State represent a fraction of the sports world, but the talent of the players and dedication of the coaches doesn't go unnoticed.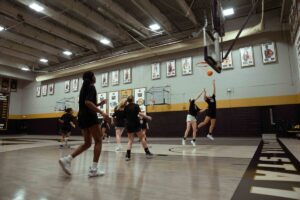 For Emporia State, Hudl has proven invaluable in helping players and coaches maximize their skills and performance. Its suite of tools helps programs create a culture of accessibility for coaches, student-athletes and graduate assistants across all sports.
Empowering Coaches and Grad Assistants
The Hudl Focus cameras have played a massive role in making coaches' lives easier at Emporia State. With automatic capture and upload capabilities, coaches can access their film instantly after games or practices. This easy-to-use capture solution helps coaches delegate video work to grad assistants, allowing them to focus on higher-level tasks. Evan Lavery, associate head coach of the men's basketball team, knows how Focus makes it much easier for grad assistants to build daily reels with Hudl.
"We really took it up another notch with having practice film done in the gym before we got the tactical [Focus] camera. We put something up on one of the other baskets and we were able to film one end," he said. "We have our student assistants go through and clip all the practice film out. Then they'll send in daily reels to our guys."
These reels can show student-athletes every day what they need to work on. This gives players an accurate picture of their progress, and the opportunity to work on their game outside of practice.
Empowering grad assistants is important, especially for programs like Emporia State, which tend to have smaller coaching staffs. Making sure that grad assistants have access to the tools they need to fulfill their responsibilities is crucial.
For the Lady Hornet basketball team, there are two coaches and a grad assistant that help make sure the team has the footage and technology they need to grow as student-athletes. Hudl helps a small staff make a huge impact on their players.
Improved Communication with Student-Athletes
One way that coaches have been using Hudl to their advantage is by communicating with their student-athletes within the Hudl platform. How? By adding feedback directly to their game video. Kiel Unruh, assistant head coach of Emporia State's women's basketball team, has seen firsthand how easy it is to use video notes to communicate with his players as they watch film. Not only is this a great way for players to see what they're doing as they get feedback, it's also ideal for building new game plans and strategies.
"I can pull film from our games and then I can go in and I can individually categorize for each individual player. If I want our scouting report, we can break that stuff down even more in-depth than we could four or five years ago." Unruh said. "I mean, we can go on, 'Hey, this is what this kid does in the post every time,' and I can tag that and I can make notes on that."
Coach Kiel Unruh discusses the importance of video as a teaching tool.
Hudl gives coaches these capture, tagging and analysis tools to help them get their players even more ready for games. Athletes have easy access to coaching points on Hudl video, which means they can review it from wherever they are, giving them the opportunity to sharpen their skills on their own time.
Access Film Whenever and Wherever
No one can be everywhere at once. There are times when a coach, student-athlete, athletic director or grad assistant has to miss a game or practice. With footage being captured at all events, it's easy for anyone to review it after the action. You never have to miss a game again with Hudl.
Having easy access to video footage as a coach and as a student-athlete is crucial to making sure you have a productive and efficient experience. Hudl has allowed Emporia State to seamlessly hop in wherever and whenever they want. They've been able to capitalize on student-athletes having access to film and data on their own time, while also managing Hudl's easy-to-use products.
"It is all about being able to understand it," said Unruh. "There wasn't a huge learning curve to be able to use the products. So just the ease of being able to use the product has been a real timesaver for us."