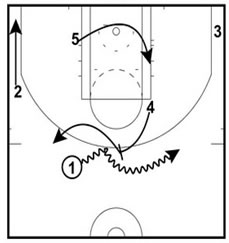 From one of Coach Creighton Burns' old Newsletters
If you are interested in receiving his newsletter, email me and I will forward your information on to him.
In this play, as 2 loops off a staggered screen, 4 steps up to set a blind pick and pop on 1's man.
2 loops off free throw line staggered screen by 5 and 4
3 clears to weak side corner
1 follows 2's cut on the dribble
5 dives to the rim to seal his man.

1 reverses his dribble
2 flows to the corner and 4 steps up to set middle pick and pop.
Option
If pass is made back to 4 and there is no available shot, he should always swing the ball to 2, and follow to set a 2nd pick and roll.