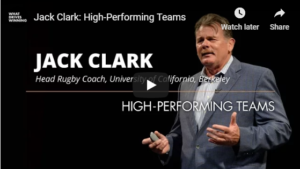 The first video is 12 minutes with 24 time National Champion Rugby Coach Jack Clark was posted by whatdriveswinning.com.
If you go to that site, you will be able to view other similar videos with other coaches who have built highly successful Division I programs in various sports.
Even though these coaches do not coach basketball, most of the principles that they apply to their jobs are applicable to coaching basketball.
This video is a You Tube video, so please make sure that you are on a server that allows you to access You Tube videos.
At the beginning of this video, Coach Clark discusses the "buckets" that make up the job of a coach.
Those buckets are operations, applied science, coaching, and culture. The majority of this presentation contains his thoughts on developing high performing teams.
Make sure that your sound is on, then click the play arrow to view the video.
Jack Clark on High Performing Teams
The mindset Coach Clark instills with his Cal Rugby teams is "Grateful for everything. Entitled to nothing." Clark feels that if we are willing to work for everything that we have, that we become more resilient.
To create a value system, you must connect your beliefs together. The system allows the team to process everything that comes before them both on and off the field in a way that is based on values. The beliefs must be complimentary and can never be contradictory.
To establish your programs' value system, you must spend a lot of time thinking about
The Cal value system is: Selflessness, Constant Performance Improvement (not necessarily improving results), Merit, Toughness, Leadership
Anson Dorrance
The second video is of 21 time NCAA Division I Women's National Championship Coach Anson Dorrance of North Carolina Women's Soccer. This video was also produced by whatdriveswinning.com
The exercise Coach Dorrance discusses at the beginning regarding letters the day of the national championship game could be used in other settings such as senior night, or even prior to the first game of the year.
He also discusses the core values of the North Carolina program. Here is a link to those: Core Values of a Championship Program