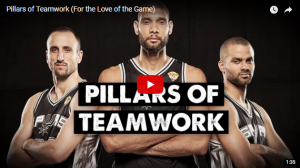 This article was written by Basketball Strength and Conditioning Coach Alan Stein and published on his Stronger Team Blog
11 Championship Habits
Written by Alan Stein
I am thankful to have the opportunity work with our team year round, attend many practices and sit on the bench in coat & tie during every game. I am a part of many team meetings and make sure I have a pulse of how our players are doing (mentally and physically).
I am going into my fifth season at DeMatha and have learned first-hand what it takes for a program to be successful consistently. While I would never argue how helpful it is to have very talented players (and we most certainly do), I have learned it is actually the little things that make a big difference. It is the little things that make an average team a good team, a good team a great team and great team a championship team. These little things are known as 'Championship Habits.'
However, the key is not to focus on winning a championship (outcome based).
The key is to focus on developing these championship habits (process based).
That is a powerful distinction.
Here are some self-evaluating questions that every player and coach in the program needs to answer honestly to maximize your team's potential this season. These 11 questions will clue you in to your team's commitment to championship habits.
And while it is important for you to know the answers to these questions, it is equally important for everyone else in your program to know them as well.
What are your team's goals (or standards) for this season?
Does everyone in your program know their exact role? Do they accept it and embrace it?
Does everyone prepare for practice with the same mentality they prepare for games?
Do you believe on any given night that any team can beat you? Do you believe you can beat anyone?
Is your team on top of their schoolwork? Will academics be a distraction during the season?
Is your team getting ample sleep, eating breakfast, drinking plenty of water and appropriately tending to injuries every day?
Does your team get to practice 15 minutes early to get in extra shooting and ball handling work? Do they stay after practice as well?
During practice, is everyone an energy giver? Is your enthusiasm contagious?
Does your team warm-up properly before all practices and games?
Does your team continue to strength train during the season?
Does your team exercise the pillars of teamwork both on and off the court?
The answer to these 11 questions will help dictate the type of season you are about to have.
If you do the little things every day… they will make a big difference!
Play hard. Play smart. Play together.
Alan Stein
Hardwood Hustle Blog
http://www.About.me/AlanStein