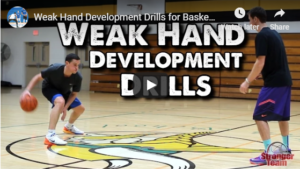 These two videos were recorded by Alan Stein.
At the time he made them, his online presence was through Stronger Team.
Alan is now teamed with Drew Hanlen at Pure Sweat Basketball.
These drills are not meant to be game-like and do violate the concept of two feet, two eyes, two hands when catching and finishing.
However, the only way for players to improve their weak hand is to use it in practice.
Forcing a weak hand overload in workouts is one way to get weak hand reps and not even give players the opportunity to use their strong hand.
Of course, there needs to be a long-term plan and commitment to work on these or any drills that you can come up with. Working on them for a few minutes for a few days is not going to help.
The videos are YouTube videos, so please make sure that you are on a server that allows you to view You Tube videos.
Click the play arrow to view the videos.
Weak Hand Development Drills Part 2
Weak Hand Development Drills Part 1