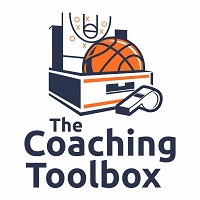 This sample play that is diagrammed below is from Shaka Smart's VCU Ball Screen Offense Playbook.
The Playbook contains:
9 Entries into the Ball Screen Motion
29 Set Plays,
9 different types of ballscreens they implement in their game
8 ballscreen endings
The VCU Playbook is bundled with Brad Stevens' Butler Ball Screen Offense Playbook. You can find out more about the bundle by clicking here: Butler and VCU Playbooks Bundle Both eBooks are by Jimmie Oakman
If you have any questions about the Playbooks, please feel free to email me or call or text me at 765-366-9673.
Diagrams created with FastDraw
2 cuts to the NBA Slot to receive the entry pass from 1
3 empties to the same side corner
4 moves toward the block
4 back screens for 1 to cut to the basket.
After setting the back screen for 1, 4 sets a ball screen for 2 and rolls.
1 cuts to above the ft line extended
5 sets a side ball screen for 1 and then rolls to the basket.
As 5 rolls, 4 fills behind the action.
The VCU Playbook is bundled with Brad Stevens' Butler Ball Screen Offense Playbook. You can find out more about the bundle by clicking here: Butler and VCU Playbooks Bundle Both eBooks are by Jimmie Oakman