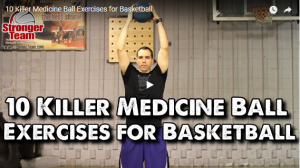 This video was posted by Alan Stein who is now a part of the Pure Sweat Basketball Team.
The coach who is demonstrating the exercises in this video is Matt Johnson. He is currently the strength and conditioning coach for the Men's Basketball Team at George Washington University.
The Drills are:
1) Anti-rotation foot fire 2) Aggressive Chop and Skip 3) Hockey Stop Toss 4) Contrast Hip Turn 5) Shuffle Change of Direction Throw 6) Broad Jump Back Pedal 7) Athletic Base Chop into Crossover 8) Hip Turn Catch and Toss 9) Skaters into Toss 10) 45 Degree Angle Bound with Rip
You might not be able to use all of them, but I hope you can find something to help your team.
There is sound with the video, so please make sure that your sound is on.
The video is a YouTube video, so you will need to be able to access that site.
Click the play arrow to play the video with the drill.
Medicine Ball Drills for Basketball