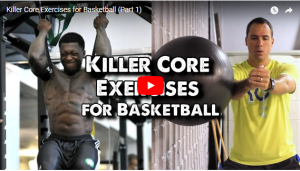 These core exercise drills were posted by Alan Stein who is now a part of the Pure Sweat Basketball Team.
The coach demonstrating the exercises is Matt Johnson, Strength and Conditioning Coach at George Washington University.
You might not be able to use all of them, but I hope you can find something to help your team.
There is sound with the video, so please make sure that your sound is on.
The video is a YouTube video, so you will need to be able to access that site.
Click the play arrow to play the video with the drill.
Killer Core Exercises for Basketball Part 1
The Drills are:
1) Deadbug 2) 1/2 Kneeling High/Low Chop 3) Around the World 4) Band Resisted Lateral Crawl 5) Ball Pop 6) 1/2 Kneeling Rotate and Press 7) Rotational Chest Pass 8) Overhead Chop
Killer Core Exercises for Basketball Part 2
The Drills for Part 2 are:
9) Rotational Plank with Side Thrust 10) Full Kneeling Circles 11) Prone Opposite 12) Single Leg Hop and Slam 13) Quick Step Throw 14) Feet Elevated Slam 15) Iso Split Squat Anti-Rotation Press
Click here for a link to Part 3