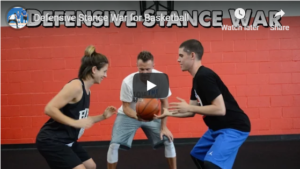 This defensive balance, strength, and stability exercise was posted by Alan Stein who is now a part of the Pure Sweat Basketball Team.
There is sound with the video, so please make sure that your sound is on.
The video is a You Tube video, so you will need to be able to access that site.
Click the play arrow to play the video with the drill.
You can establish your own rules for what constitutes to you the players being in a defensive stance. Or, you can just make it a competitive balance, stability, and aggressiveness drill without calling it a defensive stance drill
Drill begins with players facing each other in a defensive stance 12 to 15 inches apart.
The players touch palms. The object is to to knock the opponent off their footprint to score a point. Play to a score that you predetermine.
You can also play with both players holding a basketball.
The ball drop version requires one player to secure the ball without moving their foot position. You can also play this version with the players starting with their hands behind their back and turning for the ball on the coach's clap of the hands.
Once you make the drill competitive in your workouts or practices, your players will be much more aggressive than the players who are demonstrating. I have seen Alan do this drill live and it becomes very competitive and very taxing.
You can see links to more basketball athletic performance drills and exercises below.
Defensive Stance Battle