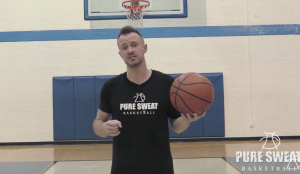 These core exercise drills were posted by Alan Stein who is now a part of the Pure Sweat Basketball YouTube Channel.
You might not be able to use all of them, but I hope you can find something to help your team in your pre-season program.
There is sound with the video, so please make sure that your sound is on.
The video is a You Tube video, so you will need to be able to access that site.
Click the play arrow to play the video with the drill.
The Drills are:
1) Wall Walk-Out 2) Wall Sit-Slide 3) Wall Sit-Walk 4) Lateral Wall Sit
Advanced Strength Exercises for Basketball
And, here are some stretching exercises for your players to improve their mobility in their ankles and hips…
Dynamic Stretches for Basketball
The exercises are: 1) Elbow to ankle 2) Open Up 3) Hamstring Rocker 4) Groin Rocker 5) Overhead Squat 6) Downdog to Updog