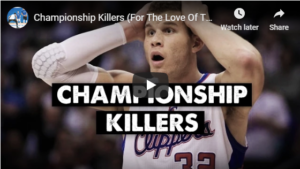 These 2 articles were written by Basketball Strength and Conditioning Coach Alan Stein.
I hope it is something that you can add to and share with your players.
Little Things Make a Big Difference
by Alan Stein
Championships aren't always won with extraordinary players.
They are also won with ordinary players, doing the little things, extraordinarily well.
Who does all of the little things to make your team successful?
Who takes charges?
Who dives for loose balls?
Who hits crucial free throws?
Who talks on defense?
Who sets solid screens?
Who makes the extra pass?
Who boxes out every possession?
Who sprints the floor in both directions?
Who is never late?
Who does all of the above, every day, in practice?
Who stands up and claps when a teammate comes out of the game?
Who doesn't care how many points they score or how many minutes they play?
Who only cares if the team wins and if they did everything in their power to contribute?
Every team needs players like this.
The more players you have, the better your success.
Because little things make a big difference.
And doing these things is a choice.
It doesn't matter how old you are, how tall you are or high you can jump.
These things are all about effort and attitude.
Every single characteristic listed above is 100% within a player's control.
Be THIS Player
by Alan Stein
A good friend of mine, Chris Lun (Head Basketball Coach at Whitman High School in Bethesda, MD), reminds his players every day to be the type of player that is…
Easy to play with and hard to play against
Despite its simplicity, that is a very powerful concept.
It is solid advice for players of every age and every level.
Make a conscious effort, in every practice and every game, to do all of the things that your teammates love and your opponents hate:
Box out on every shot
Close out with a high hand
Sprint the floor both ways
Make hard basket cuts
Crash the offensive glass
Bump all cutters
Set solid screens
Keep the ball out of the paint
If every player on your team makes a commitment to this concept, you will become the best team you are capable of.
Conversely, make sure everyone on your team avoids these Championship Killers:
Play hard. Play smart. Stick together.
Alan Stein
Pure Sweat Basketball
Click the following link to read a chapter from my eBook 130 Little Ideas That Make a Huge Difference in Your Program