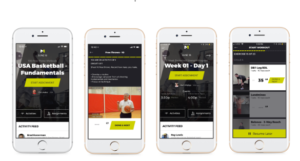 It's no surprise that the sport of basketball is evolving towards improved performance through new technologies. Coaches and athletes are always looking to get a leg up on the competition, and new technologies are continually making this a reality. Smart coaches realize this, and are able to adapt and seize any opportunity to get better.
At The Coaching Toolbox, I take pride in keeping coaches up to date with these new technologies, and giving them the opportunity to enhance their program.
A few months ago I came across MaxOne, a coaching app with a wide range of functionality designed to help coaches lead a better program.
Through some research, I found that MaxOne has been making big moves in the world of basketball.
Notably, the world's largest basketball equipment supplier, Spalding, had taken a leadership role in identifying the latest and greatest companies in the sport of basketball. At the 2018 NBA All-Star Game, they held a competition to crown the top companies in the sport of basketball. One of the companies at the top of the list was MaxOne.
I also found that MaxOne recently partnered with USA Basketball, to provide USA Basketball training content to coaches and athletes. You can access this exclusive content all through the MaxOne app, which I will get more into later.
MaxOne stuck out to these industry leaders, as it did to me because it has direct applications for basketball coaches and athletes at all levels. The app is practical, easy to use, and saves coaches tons of time.
I decided to reach out to the MaxOne team to find out what makes the tool one of the most talked about in basketball.
Here is what I found:
"MaxOne is the most innovative way to manage, communicate and organize your program – putting completely customizable, skill and strength training at your fingertips."
Skill and Strength Workouts – Customize or Train Like the Best
As we all see everyday, kids are effectively engaged in and through technology. MaxOne makes it easy for coaches to capitalize on that trend. A key component of engagement is motivating athletes and driving performance improvement within your program. With this in mind, I love the way MaxOne harnesses technology to drive performance improvement.
The mobile app makes it simple for coaches to create their own custom video library of the skill drills and strength-building exercises they want athletes to execute. Athletes become engaged when they access the activities through their own MaxOne accounts via their smartphones. There, they view and execute the activities as instructed, and record their performance. Results are posted in real time on program-wide leaderboards, permitting coaches and other athletes to see the "personal bests" of the athlete's workout in a live environment. The accountability and competition driven by the leaderboards is just one of many benefits that make this one of the best training apps out there.
Not only can coaches upload their own content, but some of the biggest names in training also offer their training programs through the MaxOne app.  USA Basketball, Shot Mechanics, Basketball HQ, and Camp Sanderson Strength all provide preloaded workouts that a coach can drag and drop to assign to his or her athletes. Learn More.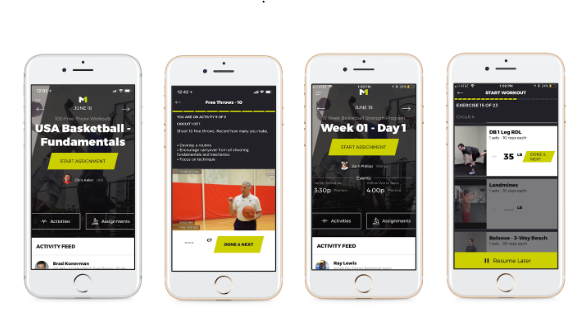 Communication: Calendar, Messaging, and Scheduling
Great coaches are professional communicators and this shouldn't be lost in the off-season. You can now stay organized and communicate through text, email, and sending push notifications to your program's coaches, athletes, and even parents through its in-app messaging function.
MaxOne has built-in calendars to keep everyone in your program on the same page. You will be empowered to create separate, color-coded schedules for different groups within the program, that only appear on the calendars of those they impact. For those coaches who use spreadsheets to log team contact information, the MaxOne app stores and organizes it all for you in a much more efficient way, that you can access at anytime from anywhere. Learn More.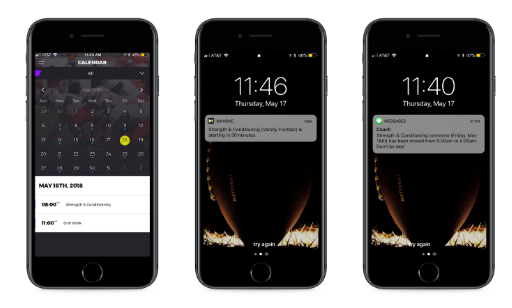 Coaching Your Coaches
We know sharing information and collaborating across a coaching staff is critical for building consistency and momentum within a basketball program. It can also be challenging, and many coaches express an interest in finding a better way to do it. I found great value in the "Coaches' Resources" tool from MaxOne that allows for uploading content in the form of video, PDF or image files directly to an account, and the ability to share those items across all coaches within the program. It acts as a virtual coaching binder, where coaches can store important information to streamline from the bottom up. The tool helps coaches to communicate valuable resources effectively and efficiently across the entire staff. Learn More.
Camp and Event Sign Ups
Summer camps can be particularly demanding of a coach's time. This feature enables coaches to easily create an event, invite participants through the app and even collect registration fees and tee shirt sizes. The tool's real time roster of sign-ups and key information on those individuals is a huge timesaver for coaches as well.
Staying true to being the all-in-one coaching app, gear management is now a one-stop-shop within your MaxOne account as well. Top name brands are readily available to order within the MaxOne gear store. Learn More.
Want more information about MaxOne?
I've been a big fan of MaxOne since I learned how they help basketball coaches take their program to the next level. If you'd like more information on using MaxOne in your program, contact Drew Zwiers at MaxOne. Drew has been helping many basketball coaches this off-season, and he'll walk you through how you can use MaxOne in your program, too.
You have three ways to contact Drew or MaxOne: