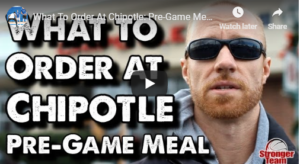 The following article was written by Alan Stein on his Hardwood Hustle Blog. He has some great content that you can see at this link: Stronger Team Blog
Game Time
by Alan Stein
I am thankful to be a part of one of the most storied high school basketball programs of all-time. If you aren't familiar with DeMatha Catholic High School's basketball program – please Google it.
SP-WCAC8I am honored to receive hundreds of emails, Tweets and Facebook messages each month from coaches around the world asking questions about what we do on game day.
As always, I am happy to share.
Before I dive into what we do on actual game day, I do want to mention an important aspect of our overall game preparation that often occurs a day or so before we play – film breakdown. If used correctly, 'watching film' is a tremendous teaching tool. What players see on the court and what we see from the sideline aren't always congruent. Film is a powerful medium to bridge that gap. Instead of having our players watch entire games, which is monotonous and time consuming, we prefer to show them a series of edited clips. We show them things they did well. We show them things they need to improve. For example, we may have them watch 6 clips from our last game on how we effectively guarded the pick n' roll or 4 clips of times when we didn't box out and the other team got an offensive rebound. For today's players, being quick and to the point is essential to getting your message across.
OK, back to game day.
Our players are expected to arrive a minimum of 2 hours before tip-off and to watch/support the JV team. We let our captains determine each game's dress code – which can either be matching DeMatha warm-ups or coat and tie. We allow our players to wear headphones up until it is time to get dressed.
Players that need treatment from our athletic trainers need to report to them approximately 75 minutes before tip-off.
Our players are to be dressed in their game uniform and shooting shirt 45 minutes before tip-off. I then take our team through a comprehensive, movement specific warm-up for 12-15 minutes. This warm-up is done behind the scenes – in a hallway, locker room, classroom or alternate gym. We make the most of what we have, where we are.
Once the warm-up is complete, we head back in to the locker room (which is now around 30 minutes before tip-off) so Coach Jones can review our match-ups, keys to the game, offensive/defensive focal points and lead our team prayer.
This takes between 10-12 minutes total which puts us ready to take the court with about 18-20 minutes before tip-off. Coach Jones keeps this portionshort and sweet to ensure our players don't lose the warm-up effect they just created.
Since our players are already physically/mentally warmed-up at this point, the 20 minutes of court time before we play is focused on passing, ball handling and getting up shots (not 'stretching').
Now we are ready to play.
What time is it? GAME TIME!
Train hard. Fuel smart. Get better.
Alan Stein
Hardwood Hustle Blog
http://www.About.me/AlanStein