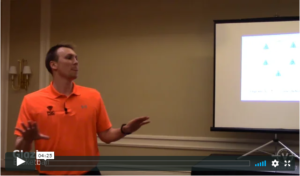 Clinic Video from:
This video was filmed at a PGC/Glazier Basketball Clinic.
The Coach in the video is Graham Maxwell. Graham is on the men's staff at Emmanuel College.
The clip only covers what they are playing when the ball is on the wing, but I hope you can get a principle that might help you if you play zone, or stimulate an idea for your zone attack.
If you're interested in reading the video transcription, click here for the Ball on Wing 1-2-2 Zone Alignment on PGC/Glazier's site.
1-2-2 Ball on Wing Responsibilities