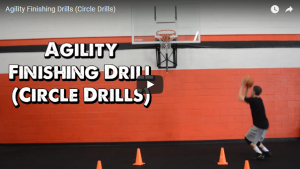 These three videos show several agility exercise drills are with elite basketball performance coach Alan Stein.
Alan believes that running in a tight circle strengthens feet and improves ankle mobility.
A few of the variations include handling and shooting the basketball in addition to the benefits for feet and ankles.
Please make sure that your sound is on and click on the video to play.
Click the play arrow to view the video.
The video is a YouTube video, so you need to be on a network that does not block YouTube access.
Circle Drills: Agility Finishing
Split the Circle Basketball Agility Drill
Circle Drills